Senior Principal Administrative officer at the office of DPP , William Ashael Osoro at Milimani Anti-corruption court.
It was a case of the hunter becoming the hunted as an officer charged with prosecution of law breakers was today arraigned in court with the case of misappropriate of funds. Mr William Ashael Osoro, a senior administrative officer at the Director of Public Prosecutions (DPP) office was today charged with misappropriation of fuel worth Sh7.9M through use of unauthorised fuel card.
Through their official twitter handle, the office of DPP announced that Mr. William Ashael Osoro was charged at Milimani Law court today and was released on Ksh.1.5 million bond and alternative of Ksh. 600,000 cash bail. Osoro was at the same time ordered to deposit his passport in the court.
Senior Principal Administrative Officer @ the ODPP, William Ashael Osoro was today charged with misappropriating fuel consumption worth Sh7.9M through use of unauthorized fuel card.
The Milimani anti-corruption Magistrate Mr. Lawrence Mugambi also denied Mr. Osoro access to the DPP unless authorized by the directorate.
In their earlier statement to the press, the DPP office said that they had enough evidence to charge Mr. William Osoro with the misappropriate of fund. "The suspect will be charged with abuse of office and stealing by a person employed by the Public Service," read part of the statement. Read the full statement bellow.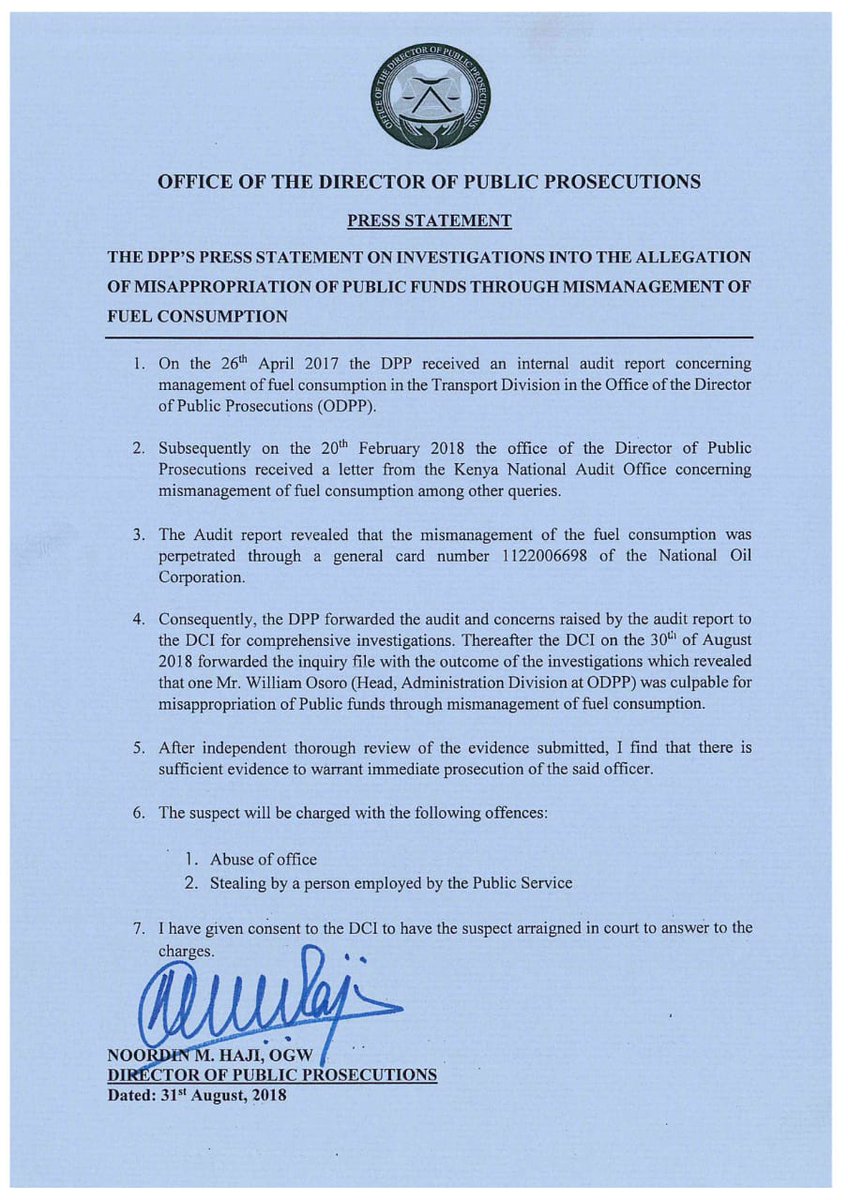 In what seems as unstoppable war against corruption, the Directory of Public Prosecution Mr. Noordin Haji is leaving no stone unturned. Contrary to his predecessor, Mr. Haji's sword is cutting both ends. The so-called Big fish and small fish have fallen victims. Mr. Haji seems not to be stopping any time soon.